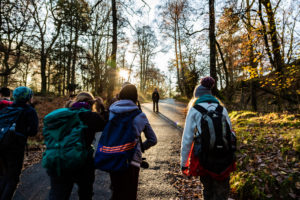 Keswick Scouts marked 100 years since the end of the First World War earlier this month with a special camp, memorial service and adventure at Honister slate mine.
Asked how they wanted to mark this important centenary, scouts from the group's Greta Troop decided together to do so with a camp at the group's Ashness Hut in the heart of the Borrowdale valley and not far from the war memorials of Castle Crag and Great Gable.
As well as short service of remembrance designed by the scouts themselves, the young people spent the weekend putting into practice skills developed in weekly troop meetings by planning and cooking the weekend's meals, pitching tents and most importantly having a lot of fun!
The scouts also made the most of the fantastic early winter weather with a walk through the Borrowdale valley, taking in classic sights including Surprise View, before travelling to Honister Slate Mine for a Climb the Mine Experience.
Scout Finn said "I really enjoyed my first camp with Keswick Scouts – my favourite part was Honister. I really liked playing with my friends and having adventures outside in the dark."
Scout Leader Amanda Harrison says, "It was a fantastic weekend, I was very proud of the remembrance service the Scouts put together and enjoyed watching and supporting them to work as team. I can't wait for the next camp."
Keswick Scouts meet weekly in term time as well as running other activities at weekends and during the school holidays – if your child is interested in joining, or if you would like to learn more about volunteering, please visit www.keswickscouts.org.